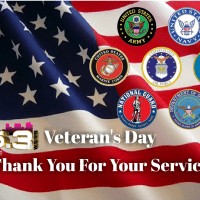 Happy Veteran's Day To All Our Veteran's. We Salute You & Thank You For Your Service
TODAY YOU SHARE A BIRTHDAY WITH:
LEONARDO DICAPRIO (ACTOR TITANIC) 45, DEMI MOORE (ACTRESS EMPIRE) 57, TREY SMITH (WILL SMITH SON) 27, JON B (SINGER) 45, CALISTA FLOCHART (ACTRESS ALLY MCBEAL)55, LAVERN BAKER (R&B vocalist I Cried a Tear), born in Chicago, Illinois (1929-1997), JOHN REILLY (actor (Sean-General Hospital, Dallas, Hamptons), born in Chicago, Illinois, Static Major, American singer (1974- 2008),  LIL DAVE, [Davis Shelton], rapper (Another Bad Creation) 37
Today's National Calendar
BLACK HISTORY
1831 Nat Turner was hung to death at age 31.  He was hung because on August 21, 1831 Nat an African-American slave led a 2 day rebellion of free blacks & slaves in Southampton County, Virginia. Approximately sixty white men, women and children were killed. Whites organized militias and called out regular troops to suppress the uprising.
1890 D. McCree patents portable fire escape Patent No. 440,322
1925 Xavier University established.
1969 George R. Carruthers patented the image converter for detecting electromagnetic radiation was patented
1979 The Bethune Museum & Archives, a depository and center for African American women's history, is established in Washington, DC
1984 Martin Luther King Sr, American Baptist pastor, missionary, and an early figure in the Civil Rights Movement/father of MLK Jr, dies at 84
1989 Civil Rights Memorial is dedicated in Montgomery, AL
1982

 Prince
 kicked off his 87-date '1999' North American tour at the Soldiers and Sailors Memorial Auditorium in Chattanooga, Tennessee.
Events
1493 Christopher Columbus discovers Saba
1647 Massachusetts passes 1st compulsory school attendance law in the American colonies
1675  Gottfried Wilhelm Leibniz (German mathetician) demonstrates integral calculus for the first time to find the area under the graph of y = f(x) function
1807 Washington Irving's Salmagundi periodical published 1st to associate the name "Gotham" with New York City
1889 Washington admitted as 42nd state of USA
1918  World War I hostilities end at 11am, "the eleventh hour of the eleventh day of the eleventh month"Armistice signed by the Allies and Germany comes into effect
1918 George Lawrence Price, Canadian soldier, last person to be killed in WW I
1921 29th US President Warren G. Harding dedicates Tomb of Unknown Soldier at Arlington Cemetery
1925 Louis Armstrong and his Hot Five record begin their 1st recording session
1926 U.S. Route 66 is established.
1933 Billie Holiday's 2nd song and first hit, "Riffin' the Scotch", is released
1938 Mary Mallon, Irish-American patient known as 'Typhoid Mary' and the 1st person in the United States known to be immune to typhoid, dies at 69
1940 Blizzard strikes midwest kills over 100
1944 B.B. King (19) marries his first wife Martha Denton
1946 New York Knicks 1st game at Madison Square Garden, they lose 78-68 to Chicago Stags
1969 Beatles with Billy Preston release "Get Back" in UK
1969 Jim Morrison arrested by FBI on an airplane for drunkeness
1983 President Reagan 1st US President to address Japanese legislature
1985 Yonkers found guilty of segregating schools & housing
1992 The Church of England approves the ordination of female priests
1994 Bill Gates buys Leonardo da Vinci's "Codex" for $30,800,000
1997 Timbaland and Magoo released their debut album Welcome To Our World