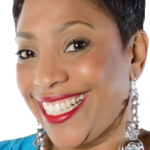 Follow @iamkenyasimone

She's Funny and Sassy, Sweet and Genuine, with an Infectious Smile that seems to shine through the airwaves! Born and raised on the South Side of Chicago, Kenya Simone Edwards began her radio career at the age of 12. Pastor Gordon A. Humphrey Sr., allowed her to do welcomes, announce guest choirs and give words of encouragement during live broadcasts for Shiloh MB Church. Although she viewed it as being obedient and working in the church, the flame was ignited and the desire for radio burned within her! She attended the School of Broadcasting at Kennedy King College where she was introduced to the many facets of the world of Radio. Kenya hit the ground running while on the number one college radio in Chicago, 89.3 WKKC. She co-produced a talk show, served as writer, producer and host of the "Sports Connection" and was one of the Personalities for the Afternoon Drive. Kenya quickly adapted to the fast pace of commercial radio while interning for WGCI in the National Sales and Traffic Departments. This internship turned into a job producing traffic reports, which landed her the position of Lead Traffic Producer for FOX News Chicago. Her voice is often heard on several radio commercials, public service announcements and national ad campaigns. Kenya hosted her weekend show on WGCI for 6 years. She could also be heard making guest appearances on "The Morning Riot" making guest appeal Her quick wit, laugh, and warm spirit, partnered with her vast knowledge of sports, entertainment and community makes her a strong force in the industry.
She's the Rookie on the All Star Team at 106.3, and knows her best years are ahead of her! Be prepared to listen, watch and enjoy all that Kenya has in store, as she entertains and informs on Saturdays from 12p-4p!
Kenya serves Chicago behind the Mic and in front of the students at The University of Chicago Charter School. Where she mentors girls and teaches a Radio/TV course with the Afterschool Program.
Always putting her community first, Kenya founded the GAMMA Girls Mentor Program and Step Team, serves as an Asst. Director for the Roots Youth Sports, and Coaches Girls on The Run Inc. Chicago Chapter.
Folks have been busy lately, especially quite a few of our political representatives. Earlier this week, a Missouri state Rep. Rick Brattin (R) announced plans to get HB 813 passed, a bill that limits what SNAP recipients