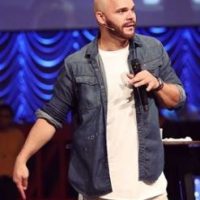 Pastor Chad Johnson has been quiet since the announcement that was made from Michelle Williams that the engagement was off.  Chad remained offline in the weeks since Michelle called off their engagement Chad made his first post on Instagram Sunday. He finally broke his silence to say that it has been really hard.  Chad goes on to say, "I'm definitely broken up over it," "Sometimes love, although it's real, it's not enough. … You have to be able to walk together and communicate. Michelle, she's a beautiful soul, bro. We had some amazing moments together. But we have to move forward."
He broke his silence during a facetime call during the finale of the show.  Chad also made it clear that the breakup wasn't "Nasty" and that he wishes Michelle well.
Below you will see what Pastor Johnson preached about at Church for the Nations in Phoenix.
"The 'D.N.A. of Dirt' … 1• God knows your dirt! 2• Isn't afraid of your dirt. 3• Knows what to do with your dirt.(He started you with dirt) 4• Will breathe life into your dirt. 5• Make you shine after your dirt!!! \\Your DIRT doesn't DISQUALIFY you!!!\\ \\He disqualified everything that has tried to disqualify you!\\ \\His hands on A THING can create absolutely ANYTHING into SOMETHING …unforeseen and unthinkable!!\\ •
• John 8:1-13 ????," read the caption of a series of photos snapped during the service.