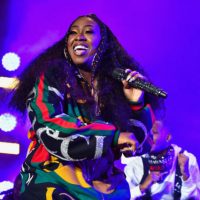 Yesssss Missy Elliott!!! She totally deserves this she has been nominated to be inducted into the songwriters Hall of Fame. Missy Elliott is the first female rapper to ever accomplish a feature in the hall of fame history.
Missy took to twitter saying "I'am humbly grateful to be nominated with so many other amazing writers".
If Missy is inducted, she will be the third of only three rappers to earn this honor. JAY-Z became the first rapper to be inducted in Jun. 2017, followed by Jermaine Dupri in 2018.
Only six six songwriters or groups will be inducted into the Songwriters Hall of Fame. The 50th annual Induction & Awards Gala will take place in New York on June 13, 2019