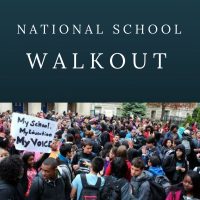 Across the country students are preparing to walk out in the support of the Nationwide protest. Students will walk out from middle schools, high schools and College Universities to add pressure congress. The demands are banning assault weapons, require universal background checks before gun sales and pass a gun violence restraining order that would allow courts to disarm people who display signs of violent behavior.
Each Illinois school district is handling the walkout in its own way.  Some say it they won't penalize students who participate, while others are threatening kids with disciplinary action.
Aurora East will not allow the walkout, but will have indoor activities
Aurora West will allow students to walkout onto the football field
Plainfield 202 will allow students to walkout only if they agree to meet with legislatures after school to move the issue forward
Glenbrook high schools are considering the walkout an unexcused absence
You are encouraged to check in with your school to find out the protocol for Wednesday's walkout.
BY KELLY DAVIS AND CNN WIRE,
Read more: http://wgntv.com/2018/03/13/what-you-need-to-know-about-the-national-school-walkout-on-march-14/