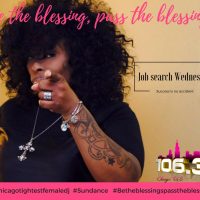 Be the blessing, pass the blessing is what I have stood on for years! Someone gave me a job and now I feel that I can pass on job information and hope someone is blessed! Here's today jobs you can apply or call today.
Company:      CTR
Position:        Truck Driver
Pay rate:         $70,178 Annually
Location:        Harvey, IL
Dedicated Truck Driver – Home Weekly – New Automatics! $1,500 Sign On Bonus!
(2) Harvey, IL
Dedicated regional truck drivers will be delivering electrical conduit and racking, to warehouses and job sites. Must be able to strap and tarp or operate conestoga equipment. This account will have all new automatic transmission trucks. Drivers can take the truck home.
$1,349 weekly average
$70,148 yearly average
$1,500 Sign on bonus
Full benefits
6 months Class A CDL tractor trailer experience in the last year
Must live within 150 miles of Harvey, IL
Call or Text 254-859-0586
Company:   Kimbel Mechanical Systems,
Position:     Commercial Plumbing Superintendent
Pay Rate:    $25.00 to $33.00 per hour
Location:     Chicago, Il
Job description:
Ability to manage larger scale projects
Material & Manpower forecasting
Quality Control as well as maintaining a schedule
Job requirements:
High school or equivalent
Plumbing: 7 years
Previous Superintendent experience with large Residential/Multi-Unit complexes
Required licenses or certifications:
Journeyman Plumber
Master Plumber
Apply here: https://www.indeed.com/job/commercial-plumbing-superintendent-2cbc96fba4fe164d
Company:      Beverly Arts Center
Position:       Bookeeper
Pay Rate:       $20.00 to $25.00 /hour Part-time
Location:       Chicago, IL
Job description:
Conduct day-to-day bookkeeping responsibilities reconcile/balance daily sales activity and make bank deposits.
Prepare monthly financial reports for the BAC Board and work with the Treasurer and management regarding required financial reporting.
At calendar year-end, generate W-2 and 1099 forms and mail to recipients and the IRS.
Job requirements:
Bachelor's Degree in Accounting or Finance
Accounting/Bookkeeping: 2 year
Nonprofit Bookkeeping: 2 years
QuickBooks/Bookkeeping: 2 years
Apply here: https://www.indeed.com/job/bookkeeper-part-time-a91c431a9c78b375
Company: People's Link
Position:    Second Press Operator (2nd Shift 6pm – 6am three days on 4 days off)
Pay Rate:   $22.00 per hour
Second Press Operator: 2
nd shift – 6pm – 6am ( Three days on, 4 days off) $22.00/hr.
 Reads instructions from job ticket
 Brings stock and ink to press, makes sure all paper is accounted for and ink is the correct color
 Positions image on sheet according to layout
 Follows safety policies and directs safety of crew
 Must have 1 to 2 years experience working as a Feeder or Floor Help
 Must have working experience with color scanning equipment
 Must be able to register 6/c work and spot coating
Apply below:
Location: Goodwill Workforce Connection Center,
351 East Roosevelt Road, Lombard, IL 60148. Please register, 630.576.4660,
or email amacdonald@goodwillchicago.com.