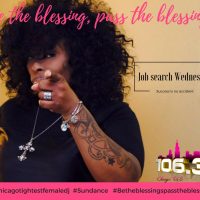 Job Search Wednesday is here!! Here's your chance to apply for a job or you can bless someone else by giving them the information! Make sure to follow the link to apply for the job today!
Company:      Midwest Accounting
Position:         Staff Accountant
Pay rate:        $13.00 to $15.00 /hour Full time
Location:       Hammond, In
Job description:
Payroll processing using Accounting Creative Solutions, as well as Intuit Online Payroll
Monthly financial statement compilation
Process payroll tax payments with the federal government, as well as state agencies for Indiana and Illinois
Job Qualifications:
A college degree in accounting, finance, or business is not required but helpful
Knowledge of Microsoft Office, email, and office equipment is necessary.
Organization, efficiency, and the ability to multi-task are key traits required for this position.
Also, candidates must be willing to work over-time, especially during the upcoming tax season
Apply here: https://www.indeed.com/job/staff-accountant-c4aebad81c97c2ca
Company:   Artisan Signs and Lighting
Position:     Clerical Support
Pay Rate:    $9.00 to $15.00 per hour Part time
Location:     Orland Park, Il
Job description:
Strong ability and experience with Microsoft Office, One Drive, Quickbooks
Excellent phone skills
The ability to get along with people and work in a team environment.
Job Qualifications:
High school diploma or equivalent.
Clerical: 5 years
A history of working in the office of a sign company is desired but not mandatory
Apply here: https://www.indeed.com/job/clerical-support-d59ac6ab5ffbf6e8
Company:      Ed Napleton Automotive Group
Position:       Part Time Data Entry Clerk
Pay Rate:       $10.00 per hour part time
Location:       Chicago, Il
Job description:
Obtain certain information / data from the dealership personnel.
Accurately entering information into various computer programs.
Organizing files and collecting data to be entered into the computer.
Keeping sensitive customer or company information confidential.
Job requirements:
Speed, accuracy, and attention to detail are essential for this role
Must be proficient with computers and able to type at least 40 words per minute.
Must possess a clean & valid driver's license
Ability to pass a background check and drug test.
Apply here: https://careers.hireology.com/napletonautomotivegroup/135888/description?ref=indeed.com
Adeco is hiring make sure you click the link below
https://www.adeccousa.com/