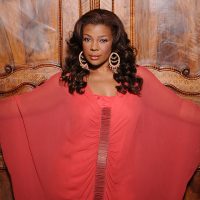 Chicago very own Syleena Johnson has made major moves in her singing career and now she's one of the voices on Sister Circle talk show.  Syleena also has She-Lean Lifestyles which talks about health, fitness and family.
According to Singersroom interview this is what Syleena says about her new album.
'Rebirth of Soul,' conceived and produced by Syleena's father Syl Johnson, will arrive on November 10th via Shanachie Entertainment. Syl is best known for his original hit version of "Take Me To The River," which was covered by Al Green and Talking Heads. Everyone from Jay-Z and Kanye West to Wu-Tang and Usher has sampled Syl Johnson's recordings. On the project, Syleena delivers her interpretations of classic R&B songs, mainly from the Fifties and Sixties, starting with "We Did it," originally recorded by Syl and the new offering, "Make Me Yours," by Bettye Swann.
Article by Karl McRoberts
Read more: https://singersroom.com/content/2017-10-10/exclusive-syleena-johnson/#ixzz4vDapHUbd