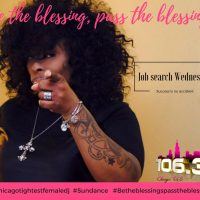 The only chick in the game that has your Job Search Wednesday! Be the blessing, pass the blessing. Someone helped me so I feel it would only be right to pass on the blessings to you! Check out today's jobs and apply today, jobs are going fast!
Company:      CTA
Position:        Lineman Helper
Pay Rate:       $28.06 Full time
Location:       Chicago, Il
Job description:
Assists Lineman in installing, inspecting, and maintaining overhead and underground electrical distribution systems.
Installs, inspects, and maintains third rail equipment.
Cuts and welds using gas and electric arc welding equipment.
Assists in construction work.
Assists Lineman in troubleshooting, testing, repairing, and inspecting electric motors, DC and AC switch gear, drainage pumps and subway louvers/fans.
Job Qualifications:
Required to submit to and pass drug and alcohol testing as mandated by the Federal Transportation Administration.
Required to be familiar with gas and electric welding/cutting equipment.
Must be familiar with measuring gauges, fine hand tools, bench power tools and electrical measuring instruments such as voltmeters, ohmmeters, and ammeters.
Required to possess the skills necessary to interpret a variety of instructions furnished in written and oral forms.
Required to write and communicate in a clear, logical and understandable manner.
Must have a valid Illinois driver's license and be able to operate an Authority or personal vehicle.
https://irecruitment.transitchicago.com/OA_HTML/OA.jsp?page=/oracle/apps/irc/candidateSelfService/webui/VisVacDispPG&OAHP=IRC_EXT_SITE_VISITOR_APPL&OASF=IRC_VIS_VAC_DISPLAY&akRegionApplicationId=821&transactionid=1016587650&retainAM=N&addBreadCrumb=RP&p_svid=10761&p_spid=830065
Company:   Horseshoe
Position:     Valet Attendant
Pay Rate:    $11.50 – $13.00 per hour full time
Location:     Hammond In
Job description:
Valet Attendants are responsible for the courteous acceptance, parking and returning of our guests vehicles in a quick and efficient manner.
Job Qualifications:
Be at least 21 years of age.
Have a valid drivers' license.
Have a good driving record.
Be able to run up to 2 miles per shift, including running up ramps and stairs.
Previous customer service experience is preferred.
https://caesars.hodesiq.com/jobs/default.aspx?JobID=5513839&returnPath=
Company:     Amazon
Position:       Full time Warehouse Associate
Pay Rate:      $13.00-$14.00
Location:      Monee Il
Job description:
Receives product using frequency scanners, pulls and packs products and unloads shipments from trucks.
Hands-on work. You can expect to handle packages ranging from small envelopes up to boxes weighing up to 49 pounds.
Be on the move. You should be willing and able to operate carts, dollies, hand trucks and other moving equipment in order to move large quantities of merchandise throughout a 10-12 hour day.
Potential requirement to operate powered industrial truck equipment. You may be asked stow and pick items from our racks, which can be approximately 45 feet tall, and sometimes in narrow aisles.
Job requirements:
Must be at least 18 years old
Have obtained a high school diploma or equivalent
Benefits
Health care benefits, starting day one
401(k) with company match
Holiday and overtime pay
Paid time off
Maternity and Parental leave benefits
Restricted Stock Units (RSUs)
Employee discount
We'll support your educational and career goals with our Career Choice program, click here to learn more
We also offer flexible work schedules for associates who are in school
https://amazon.force.com/JobDetails?reqid=a0R0G000016Ayb8UAC&setlang=en_US

Tags: