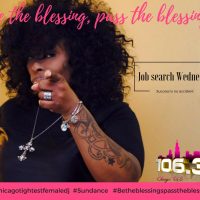 Be the blessing, pass the blessing! Sundance wants to bless you because someone blessed her with a job! If you have a job pass on the information to someone else.
Are you an individual with a record interested in a career in Transportation, Distribution, Logistics or Construction? Safer Foundation is screening individuals with records who want training and access to career opportunities in these trades. Call the number on the flyer or sign-up here:
Company:                  Safer Foundation
Positions available:  Career in Transportation, Distribution,                                                     Construction
Location:                   808 South Kedzie Chicago
Time:                         10am to 1pm
Please have with  you:
Current Resume
State ID or Driver's Liscense
Rap sheet
Copies of Credentials or Training Certificate
Contact Valerie Berkhalter 773-533-3099
Go to their facebook page Safe Foundation
https://www.facebook.com/saferfoundation/
Company:   Chicago Kids
Position:      Office Manager
Pay Rate:    $20 – $22 an hour Full Time
Location:     Oak Lawn, Il
Job description:
Front desk check in and check out
Collecting payments
Calling insurances
Talking with patients about dental treatment and cost.
Job Qualifications:
Detail oriented
Excellent typing skills
Quick learner
Able to work with our great team
Willing to travel between offices, when needed. (10 minute drive)
Experience in the dental field is a must.
https://www.indeed.com/cmp/Chicago-Kidds-Pediatric-Dentistry/jobs/Dental-Front-Office-Manager-Oak-Lawn-24bd5fdcf0002aed
Company:   Hammond Water Department
Position:     Labor Operator – Filtration Plant
Pay Rate:     $20 per hour Full Time
Location:     Hammond In
Check plant for leaks, spills and electrical fires
Assist in receiving shipments of chemicals
Assist in performing minor electrical repairs
Assist in maintaining oil level on all electric pumps and air compressors
Job Qualifications:
Ability to use various tools
Basic knowledge of leaks involving dangerous chemicals
Ability to follow writing and verbal instructions
Must pass drug screen
HOUSTON, Texas —
Federal emergency crews are looking to hire folks who live in or closer to areas devastated by Hurricane Harvey.
FEMA's recovery team will involve temporary local employees.
Jobs can pay between $14 and $34 an hour depending on position.
The jobs listed by FEMA include the following:
administrative support assistant
communications specialist
construction cost estimator
More jobs listed please click link below:

http://abc7chicago.com/careers/now-hiring-fema-offering-jobs-in-wake-of-harvey/2411742/

Tags: