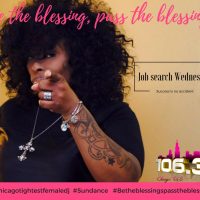 Be the blessing, pass the blessing! Check out the jobs below and apply!
Company:  Howard Medical Company
Position:     Warehouse Worker
Pay Rate     $12.00 to $14.00 /hour   (Full Time)
Location:     Chicago
Job description:
Prepare and complete orders for delivery or pickup according to schedule (load, pack, wrap, label, ship)
Receive and process warehouse stock products (pick, unload, label, store)
Perform inventory controls and keep quality standards high for audits
Job requirements:
Proven working experience as a warehouse worker
Ability to lift heavy objects
High school dipolma
Must be available Monday through Friday, 8:00 AM to 4:30 PM
https://www.indeed.com/m/viewjob?jk=f8a5376c2341b1e4&from=serp&prevUrl=https%3A%2F%2Fwww.indeed.com%2Fm%2Fjobs%3Fq%3DFull%2BTime%26l%3DChicago%252C%2BIL
Company:   Horseshoe Hammond
Position:     Buffet Runner (PT)
Pay Rate     $9.75 an hour
Location:    Hammond IN
Job description:
Provide quick, friendly and professional service to patrons and co-workers that exceed expectations.
Responsible for keeping buffet line clean, counters and floors.
Heavy lifting- 40 lbs or more
Breakdown side station, run the remaining dishes to the dish room and wipe down.
Assist host team by seating guests
High school diploma or GED
GREAT OPPORTUNITIES FOR GROWTH! Programs available such as referral bonuses, tuition reimbursement, 401-k and company-wide internal transfer opportunities,
https://www.indeed.com/m/viewjob?jk=8a059638d5e2c5cf&from=serp
Company:  Travel Inn Hotel
Position:     Front Desk Attendant
Pay Rate     $8.00 /hour
Location:    Portage, IN
Job description:
Check in/out guest at the hotel
Answer phones,
Insure all reports are accurate.
Job requirements:
Friendly, patient, professional attitude.
Serious candidates only!!! NO PAID TRAINING!!!
https://www.indeed.com/m/viewjob?jk=f5da198ad31263c2&from=serp&prevUrl=https%3A%2F%2Fwww.indeed.com%2Fm%2Fjobs%3Fq%3D%26l%3DGary%252C%2BIN%26start%3D100%26pp%3DAGQAAAFcgEuNMAAAAAETAZXRAQMBECIHRgdODibIPaqLYyx50xiDFxwKiIfhr91N2IblmQRd3f5fOa71PGRss7PcOf_GWKW5uTbqxtol_1F2JVIB4xarDZRkO6I9He_UHqtMawd0edWAS96tsWjN5uu_O70JpK1G8JJuW3FtedPFJam6Yt8rnccHHE1wF9-vytoGJYZh2HIFCA